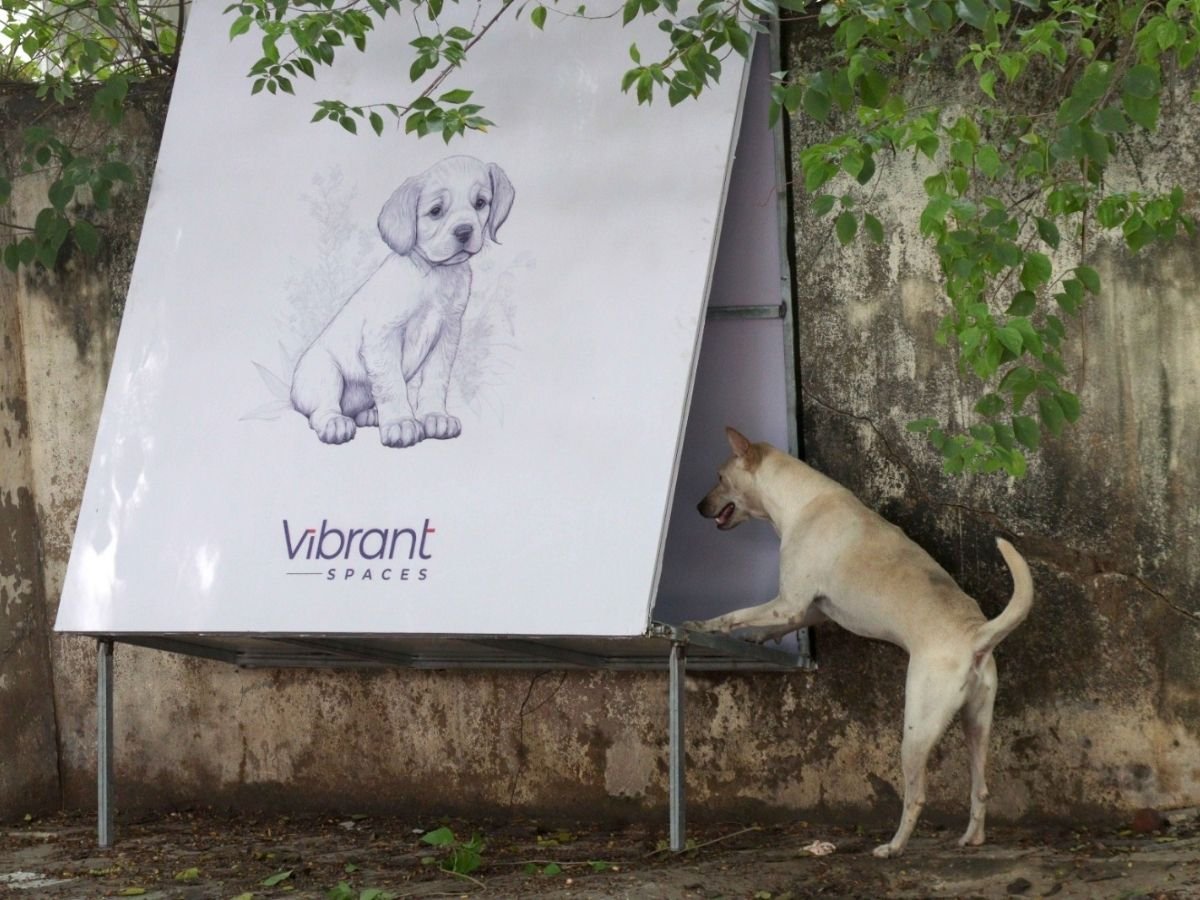 An innovative solution to protect stray dogs from both extreme heat and rainfall.
Vibrant Spaces' idea was to create dog shelters that are easy to use, durable and manage space efficiently.
The final design was a collapsible shelter that could fit virtually anywhere but also serve its purpose.
Chennai (Tamil Nadu) [India], October 18: Chennai city is a haven of cultural influences and modern infrastructure. But with extremes of weather, Chennai's streets can be hard on stray dogs who survive on its streets. Vibrant Spaces, a luxury interior design company is looking beyond the doors of its clients to the world outside of them, creating an innovative solution for the suffering of Chennai's canines in the process.
Mr. Venkat Krishnan, the Managing Director and driving force behind this new initiative, believes in transforming spaces in ways that are not just aesthetically pleasing, but efficient and effective for the ones using them.
"We often forget that sustainability is not just about building a better tomorrow. It's also about today, and finding ways for all of life to thrive" he says. To be truly effective, the dog shelter's design had to satisfy myriad conditions. For starters, it needed to be simple to set up. "A complicated set-up process for any such a project would be impractical. We needed something that used minimal manpower and time to set up", says Mr. Krishnan.
The next factor to consider was the shelter's durability. The team knew that their shelters needed to withstand extreme heat, wind and rain while also serving their purpose. There was also the question of how much space the shelter could utilise. Too much space, and it would be a hindrance to the general public. Too little would defeat the purpose of the project altogether. A lot of trial and error went into the final design—an easily collapsible concept that anyone could easily operate, out of the way when it was not needed but making a world of difference when it was.
"We tried to take a holistic approach to this project to maximise its success. These dogs suffer a lot and we felt a simple action would make a lot of difference in their lives", says Mr. Krishnan.
Vibrant Spaces' noble effort is a strong example of how a company can take efforts to give back to the society it operates in—and create meaningful improvements through innovation.
About Vibrant Spaces
A multi-disciplinary company, Vibrant Spaces creates end-to-end design and architecture solutions for their clients. With a lot of experience in both commercial and residential projects, and over a decade in the industry, the company boasts of numerous large-scale projects under its belt.
Seeking to always exceed their client's expectations, the team at Vibrant Spaces is dedicated to providing their clients world-class services and meet stringent quality standards in order to deliver not just a service, but an experience.
If you have any objection to this press release content, kindly contact pr.error.rectification@gmail.com to notify us. We will respond and rectify the situation in the next 24 hours.