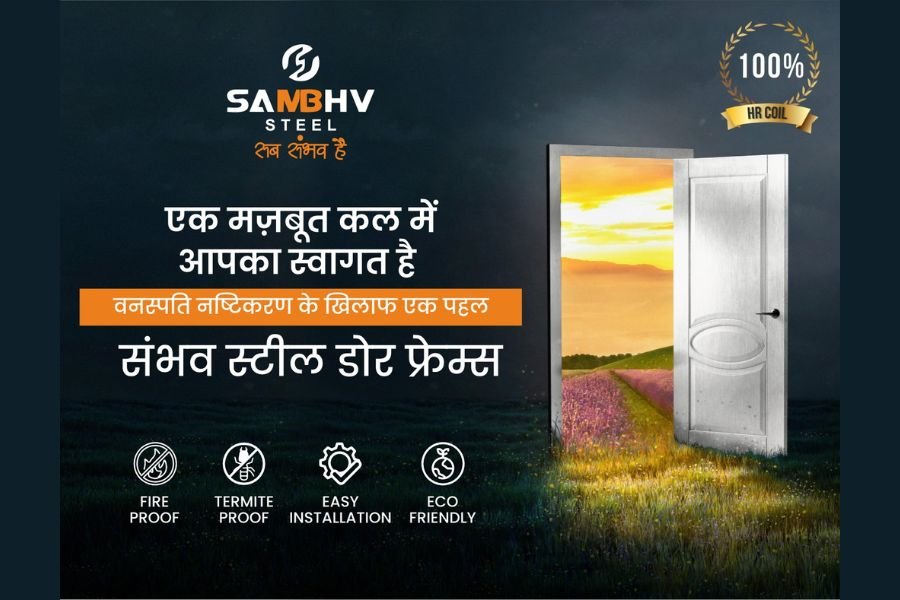 Sambhv Steel Introduces Steel Door Frames for Enhanced Consumer Safety
New Delhi (India), September 19:  Sambhv Steel, recently launched its latest product: Sambhv Steel Door Frame, which is deemed to be a one-of-a-kind, robust door frame, made of premium grade HR coils. Following the launch, the steel giant has geared itself to producing a whopping 3000 metric tonnes per month of premium door frames, specifically designed to ensure security to enhance the safety of our houses. Moreover, with this initiative, Sambhv Steel hopes to complement another of its well-loved products, Steel Door Frames, and tough steel door frames that are fire and termite-resistant, sustainable, and easy to install.
Given that as recently as July 2023, the company celebrated the inauguration of its 5th pipe mill at its factory in Tilda (Raipur, CG), the launch of the new product indicates a strategic move made by Sambhv not just to increase its market share but also diversify its portfolio. At the same time, the factory inauguration itself has fuelled Sambhv's ambition of increasing its operational capacity, thus helping the company to better capture the needs and the attention of the consumer in the competitive steel sector. Already, Sambhv, with its robust quality control practices and a first-rate product portfolio that includes ERW Black & GI tubes and pipes, has carved its niche in the industry over the years, attracting more and more distributors and retail consumers each day.
About the product launch, Mr. Krishan Sharma (President) said, "We are happy to launch our new product, Sambhv Steel Door Frames, which will ensure an added layer of safety to homes across the country. This initiative goes hand in hand with our yet another robust product Steel Door Frames, the popular fire and termite-resistant, sustainable steel doors that have become popular with buyers across different segments for their sturdiness. Moreover, what this product represents is much more than just business. Launching products such as these helps us better engage with the consumer, giving them a bigger range of quality steel products to choose from. And, it is precisely to launch products such as these that we recently inaugurated our new mill, which was meant to boost our operational capacity, thus indirectly increasing customer satisfaction around our products".
About the brand ideology he further added, "Much like our products, Sambhv Steel Door Frames will reflect our superlative product quality, a reputation which we have successfully earned in less than half a decade into the competitive steel industry. Further, it is this dedication to excellence that has helped us gain the trust of an extensive network of dealers and customers across India, who have often looked to us for premium craftsmanship. Also, behind building this reputation lies our long-term perspective. Building a successful steel company often requires patience as returns on investment might take time due to the capital-intensive nature of the industry. But it can ultimately be rewarding with careful planning, strategic vision and commitment to quality and sustainability. Also, before venturing into the market, conducting thorough market research and industry expert-led feasibility studies go a long way. Above all, for furtherance, we need thoughtful outstanding leaders who can deliver much value to the consumer and the nation".
Attesting to the popularity of Sambhv stands the impressive turnout of dealers across the countries who were invited to celebrate the grand event surrounding the inauguration of the latest factory, held at the famous Mayfair Lake Resort in Raipur. The sheer number of dealers attending the event, especially considering 35 notable ones among them travelled from different parts of the country, speaks for the fact that the company is synonymous with customer-centricity and good quality and has a strong foothold in the nationwide market.
Further, Sambhv's strong market presence is owed to the strong leadership of its top management, especially that of Shri. Brijlal Goyal, the company's Chairman. Since its inception in 2017, it has been the vision of Shri. Brijlal Goyal, the author of the book "Sab Sambhv Hai", which has guided the success of the company. Towards Sambhv's growth, he distilled his long-standing experience and business acumen developed while running pioneering operations in plastic manufacturing. Under his guidance, Sambhv has grown from having a Direct Reduced Iron (DRI) manufacturing unit (that was expanded to include a Power Plant) to setting up a Furnace, Rolling Mill, followed by a thriving pipe Mill and Hot Dip Galvanizing Division.
Similarly, furthering the legacy built by Shri. Brijlal Goyal, Mr. Suresh Goyal, the Managing Director of the company, is resolved to leverage his keen knowledge of technology to help Sambhv become a leading brand in technology. To elaborate, guided by Mr. Suresh's knowledge of technology, Sambhv's technological forte lies in building premium materials at a cost-effective price, posing the venture as a premier player in the industry. While commenting on the company's new development, the Managing Director also went on to speak about how the prospective growth will amplify the company's sustainability and social welfare efforts to which Sambhv has been fully dedicated.
He said, "We are very confident to launch our new product in the market. This will help us not just match the success we have had with our well-loved steel doors but also serve our consumer base better. Above all, the success we envision will enable us to increase our recycling and sustainable goals, making us contribute better to the preservation of the environment. Further, the enhanced profitability that comes with a successful product launch, will boost our social welfare efforts. With the noble aim of giving back to society, we have backed projects such as laying pipelines for drinking water, building roads and cemeteries, planting a large number of trees and beautifying ponds and temples".
Finally, it is needless to say that with new products being launched and the company's operational capacity being expanded, the company is set to stay ahead of the competition.
For more information, please visit: https://sambhv.com/ 
If you have any objection to this press release content, kindly contact pr.error.rectification[at]gmail.com to notify us. We will respond and rectify the situation in the next 24 hours.