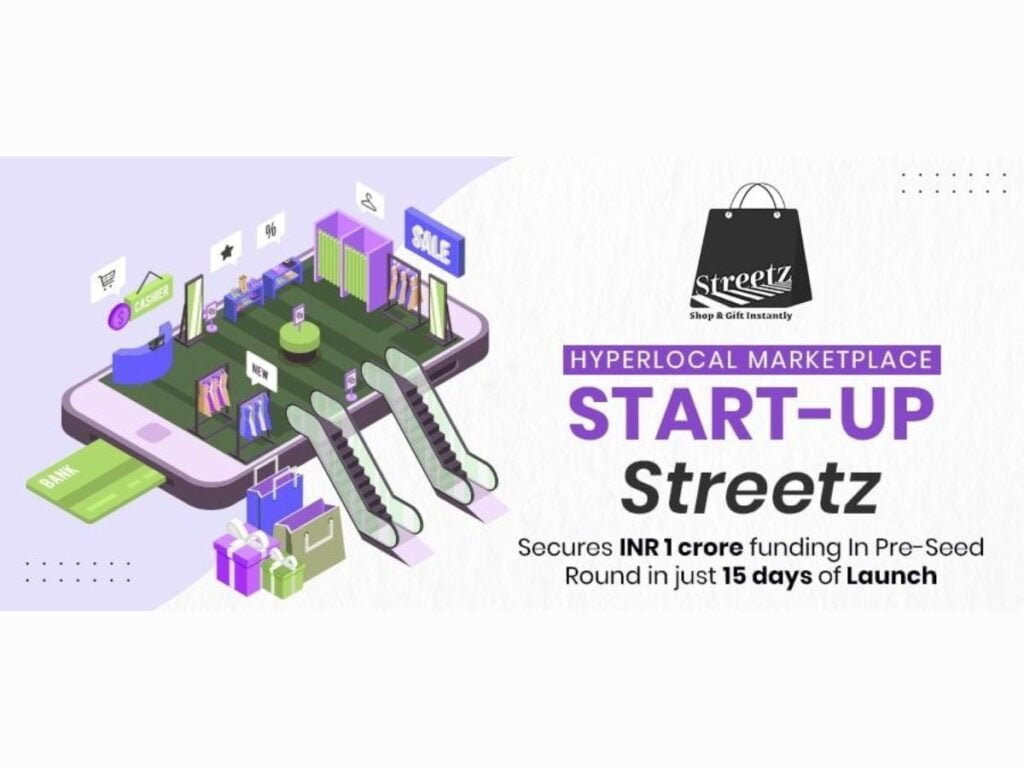 New Delhi (India), September 9: The eCommerce industry is a dynamic and ever-evolving landscape characterised by rapid technological advancements, changing consumer preferences, and fierce competition. To succeed, businesses must adapt to these shifts, prioritise customer experience, and embrace innovation in logistics and payment solutions.
A new player is emerging in the eCommerce sector with a vision to revolutionise local shopping experiences. Meet Mr. Monish Shah, a seasoned professional and entrepreneur, who is the driving force behind Streetz Hyperlocal Pvt. Ltd., a hyperlocal marketplace designed to bridge the gap between consumers and local businesses.
Mr. Shah's journey is marked by a wealth of experience in the startup world. He holds dual MBA degrees from prestigious institutions, MDI, Gurgaon, and ISB, Hyderabad. His career began with notable stints at global corporations like IBM and The Boeing Company in the US, but his passion for entrepreneurship has been a constant thread throughout his life. His entrepreneurial journey started with a successful food FMCG venture, which he later scaled and sold to Rasna International. Subsequently, he gained valuable experience working with startups at various stages of growth, from early-stage with Shuttl, mid-stage with Swiggy and Livspace, to late-stage with Flipkart. What fuels Mr. Shah's drive is his passion for building and scaling innovative ventures while making a positive impact on the world.
The idea for Streetz Hyperlocal Pvt. Ltd. was born from Mr. Shah's personal experiences in his neighbourhood, where he witnessed local businesses like his uncle's garment shop and a local flower shop struggling to compete with the rise of eCommerce. Recognizing the changing preferences of consumers, with 62% favouring online purchases, he saw an opportunity. This led to the creation of a mobile app-based platform that connects local shops with online consumers. Streetz has a twofold mission: to provide local businesses access to the online market and to streamline the delivery process for eCommerce products and gifts, ensuring speed and predictability for customers. With the Indian Fashion & Lifestyle market valued at $69 billion and the Gifting market at $30 billion, Streetz focuses on fashion, lifestyle, and gift products, offering ultra-fast 1-2 hour deliveries to customers.
The Streetz app specialises in sourcing products from local shops, including clothing, footwear, kidswear, toys, cosmetics, kitchenware, flowers, gifts, mithai, chocolates, and bakery items. What sets Streetz apart is its hyperlocal model, guaranteeing a short delivery time of just 2 hours, along with unique features like gift wrapping and 12 am gift deliveries.
In the 20 days since the app's launch in Ahmedabad, Streetz has onboarded 50 stores offering over 4,000 products. They've processed more than 565 orders, with an average order value exceeding Rs. 600. This led to the acquisition of 231 new customers, and an impressive 75% of them have already placed repeat orders, with the highest order value reaching Rs. 3,568. Streetz's success thus far has been achieved with minimal digital promotion efforts, primarily through platforms like WhatsApp and social media, garnering attention on the festive occasion of Rakhi with 26 orders. They are now focusing on community and corporate engagement initiatives to further educate and engage with customers.
Streetz recently secured its first round of pre-seed funding, raising Rs. 1 crore at a valuation of $2 million from seasoned investors Sagar Shah (Vice President, American Express) and Hitesh Jobalia (Managing Director, Shree Parshvanath group). Investors were particularly drawn to Streetz's impressive Average Order Value (AOV) and its zero-inventory model, which enhances profitability and accelerates growth. The funds will be primarily allocated to assembling a capable team, refining the product-market fit, and enhancing the Streetz App's Minimum Viable Product (MVP).
Looking ahead, Streetz plans to expand its product categories to include electronics, appliances, premium groceries, and more. They also have their sights set on expanding operations into the Delhi-NCR region, a significant hub for eCommerce and Direct-to-Consumer (D2C) brands. A seed funding round is in the pipeline for the end of October to support these expansion plans. Streetz is determined to make a significant impact in the Indian gifting market, which has limited eCommerce penetration due to unreliable delivery timelines and limited product catalogues. Leveraging the supply capabilities of local shops, they aim to transform the gifting experience.
Mr. Shah's message to budding entrepreneurs is clear: "Understand the problems you aim to address and build your venture on a solid foundation. Expect challenges and adaptability will be key to success. Cultivate strong personal and professional relationships to create a support network."
Streetz Hyperlocal Pvt. Ltd. is not just a business venture; it's a vision to bridge the gap between local businesses and online shoppers. Mr. Monish Shah's journey exemplifies that success in startups and entrepreneurship requires calculated risks, continuous learning, and a robust support network.
To learn more about Streetz Hyperlocal Pvt. Ltd., visit their website at www.streetz.shop.
If you have any objection to this press release content, kindly contact pr.error.rectification@gmail.com to notify us. We will respond and rectify the situation in the next 24 hours.