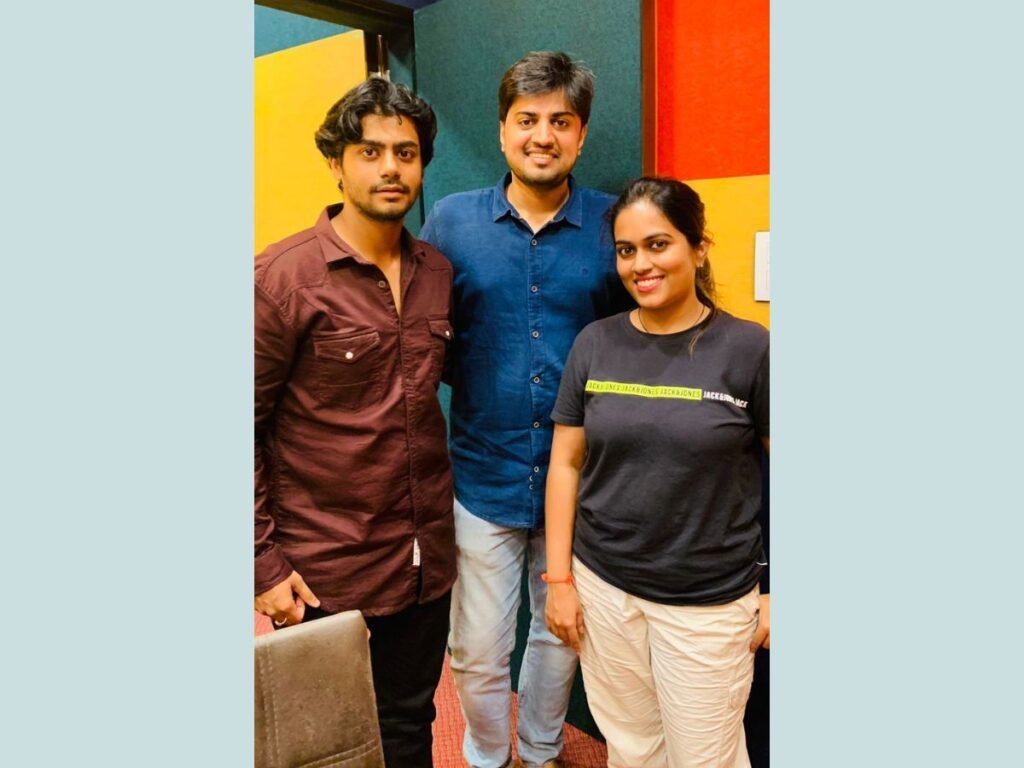 From Left to Right V. Smithh, Keyur Bhagat & Sayli Kamble
New Delhi (India), September 4: In an exciting collaboration, actor and singer V. Smithh has teamed up with Indian Idol sensation Sayli Kamble for the much-awaited video song of the year, titled 'Saans'. The duo recently interacted with the media to share their experiences of creating and recording the song.
V. Smithh, who is not only the actor but also the singer and lyricist of the song, expressed his joy in embarking on this musical journey. He revealed that he has always loved making songs in addition to acting. "This song is the perfect example of what love is all about, and as a human being, I felt deeply connected to it," Smithh shared. With Sayli Kamble as his co-singer for 'Saans', Smithh described working with her as a wonderful experience. After watching a few of her songs, he knew that he wanted to collaborate with her on various future projects.
Indian Idol sensation Sayli Kamble, equally enthusiastic about the song, expressed her excitement about being a part of it alongside V. Smithh. Kamble emphasized that the song is not just about music but also about the story it tells. She praised the depth of human emotions portrayed in the song, particularly focusing on the theme of falling deeply in love with someone. Kamble shared that as soon as she heard the script, she knew she wanted to be a part of it. She is confident that the full video of 'Saans' will give viewers goosebumps.
'Saans' is sung by V. Smithh and Sayli Kamble, with V. Smithh also penning the lyrics. The song features V. Smithh as the lead, along with actresses Pari Patil & Ambrita Shandilya. Composed by Keyur Bhagat,
Produced by Sunny Kumar Singh and 78 Ocean Films.
It has been released on the official channel of 78 Ocean Films.
The news of this collaboration has created a buzz among fans of both artists. V. Smithh is known for his versatility as an actor and singer, and his passion for creating heartfelt music shines through in his work. Sayli Kamble, a sensation from the popular reality show Indian Idol, has become a beloved figure in the Indian music industry. Her powerful voice and ability to express emotions through her singing have garnered her a massive fanbase.
The song is expected to touch the hearts of audiences with its soul-stirring lyrics and impactful music. The collaboration between V. Smithh and Sayli Kamble is undoubtedly an exciting development in the music industry, and it is expected that their collective talent will result in a mesmerizing audio-visual experience.
With the official release of the song on the 78 Ocean Films channel, fans can now enjoy 'Saans' to the fullest extent. The powerful vocals of V. Smithh and Sayli Kamble, combined with the evocative lyrics penned by V. Smithh himself, make for a compelling musical composition. The music video promises to be a visual delight, enhancing the emotional depth of the song.
As viewers immerse themselves in the world of 'Saans', they will undoubtedly experience a whirlwind of emotions as the actors and singers bring the story to life. The collaboration between V. Smithh and Sayli Kamble is sure to leave a lasting impression on the audience, solidifying their places as talent powerhouses in the Indian entertainment industry.
This season, 'Saans' is undoubtedly a song to watch out for, as it aims to touch the hearts and souls of listeners.
If you have any objection to this press release content, kindly contact pr.error.rectification[at]gmail.com to notify us. We will respond and rectify the situation in the next 24 hours.