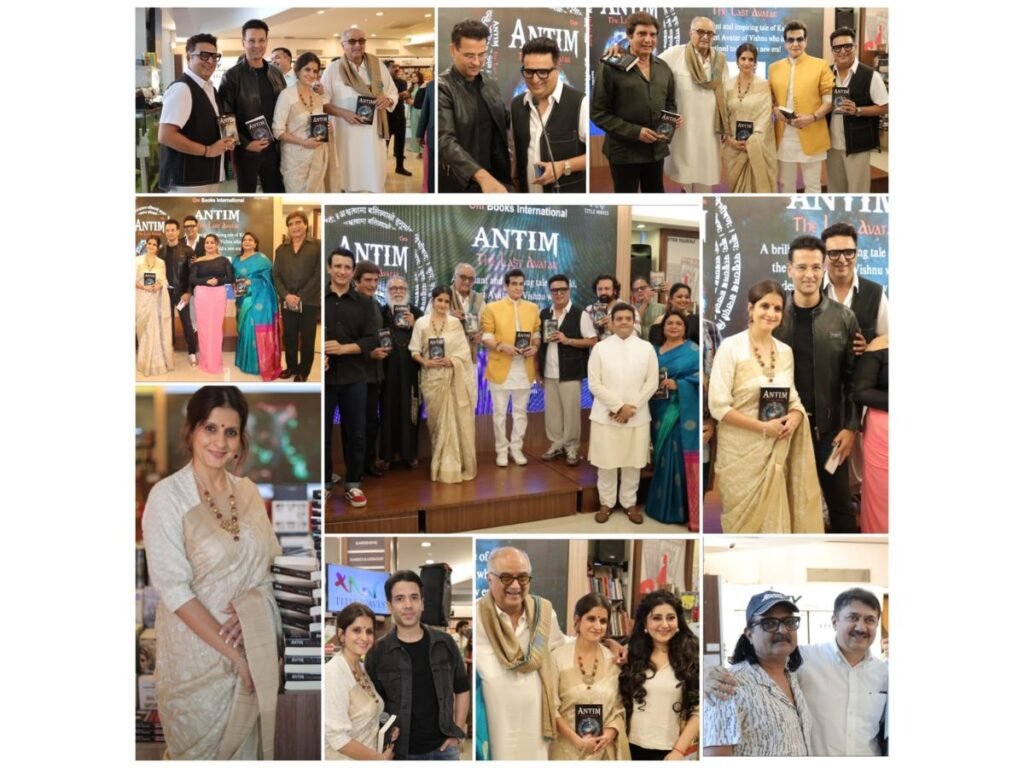 New Delhi (India), August 29: The glitterati of Tinsel Town graced the launch of what could be a potential bestseller in the contemporary mythology genre at Title Waves. We are talking about Om Books' latest offering by Dr. Neetika Modi, 'Antim: The Last Avatar'. Blending elements of Indian culture, mythology, and fiction, this enthralling tale promises to take readers on an epic journey through time, morality, and the ultimate struggle between good and evil, delving into a world where ancient prophecies, superhuman powers, and divine beings collide.
Set against the backdrop of the 21st century, the novel weaves a gripping narrative that spans generations and introduces readers to a cast of characters deeply rooted in Indian mythology. Drawing inspiration from the stories of the Eight Chiranjeevis, the guardians of the universe, Antim centres around the prophesied birth of Kalki, the tenth and final avatar of Lord Vishnu. As the world grapples with moral decline, Kalki emerges as humanity's last hope, and the battle between good and evil intensifies.
Priyanka Chopra revealed the book cover on Instagram earlier this month and conveyed her excitement, saying, "I wish you so much luck… I can't wait to read the book, so everyone go grab a copy."
The star-studded launch included Boney Kapoor, Sharman Joshi, Suresh Mishra, Raj Babbar, Jeetendra, Rohit Roy, Dr. Madhu Chopra, Gaurav Chanana, Eram Faridi, Tusshar Kapoor, Terence Lewis, Vandana Shah, Ashwini Chaudhary, SMM Ausaja besides prominent doctors, intellectuals, and industry leaders.
There was also a discussion focused on the book, during which Shantanu Ray Chaudhuri, the Editor-in-Chief of Om Books International, engaged in a dialogue with author Neetika Modi, Yogesh Sharma, the Publisher at Zen Publications, and Aparna Acharekar, co-founder of coto.
Reflecting on her work, Neetika Modi shares, "Antim is a young story that derives its roots from our inspiring Indian culture. It is a story that is close to my heart, a labour of love that reflects my humble dedication to Lord Vishnu and Lord Shiva, the Preserver and the Destroyer of the world as we know it. The book also follows the stories of the Eight Chiranjeevis."
Mr. Ajay Mago, Publisher, Om Books International, shares, "We are thrilled to launch "Antim: The Last Avatar," an enthralling mythological fiction. We can't wait to share this captivating tale and the mythical world it unveils with readers everywhere."
Boney Kapoor, the chief guest, said, "Antim is a riveting odyssey that beckons readers to confront the darkest corners of existence. Neetika Modi's storytelling is an exceptional voyage that I'm honored to be a part of."
Aparna Acharekar, Co-founder, coto, expressed, "We are thrilled to be associated with Dr. Neetika Modi and her book which is highly anticipated to be a bestseller. As the community partner, its a step forward for coto in its endeavor to strengthen engagement and further build the book and readers community. Through our initiatives we strive to boost the confidence and aspirations of women who are avid book lovers and ambitious and budding authors."
'Antim: The Last Avatar' is now available on Amazon. Additionally, the book will soon grace the shelves of numerous bookstores, including the renowned Om Book Shop.
About the Book:
'Antim: The Last Avatar' navigates the boundaries between myth and reality, pitting morality against malevolence, while unveiling the protagonist's inner struggle to confront both his adversaries and his own demons. The narrative's blend of Vedic tales, supernatural elements, and cutting-edge technology forms a unique tapestry that leaves readers spellbound.
About the Author:
Neetika Modi is a dental surgeon by profession, also a spiritual seeker and a lifelong student of Vedanta. She has immersed herself into the ancient wisdom of India, unravelling the secrets of Vedanta for the modern world. She believes that a practical philosophy can empower one to live a life of excellence, happiness, and peace. Antim: The Last Avatar is Neetika's first book. She is also an accomplished speaker, who shares her insights and perspectives on various forums and platforms. She lives in Mumbai with her husband and two sons.
Community Partner coto:
coto, which stands for 'come together', is a women-only social community app, based on the principles of Web3, that proffers expression, creation, and community enablement. It is an intimate and safe online space where women can discuss anything and everything without the fear of being judged or trolled. With its foundations on empowerment and sisterhood, coto is built on the promise of consent and continual ownership. coto boasts of 250,000+ user base on the platform with 5000+ thriving communities by women across genres.
If you have any objection to this press release content, kindly contact pr.error.rectification@gmail.com to notify us. We will respond and rectify the situation in the next 24 hours.