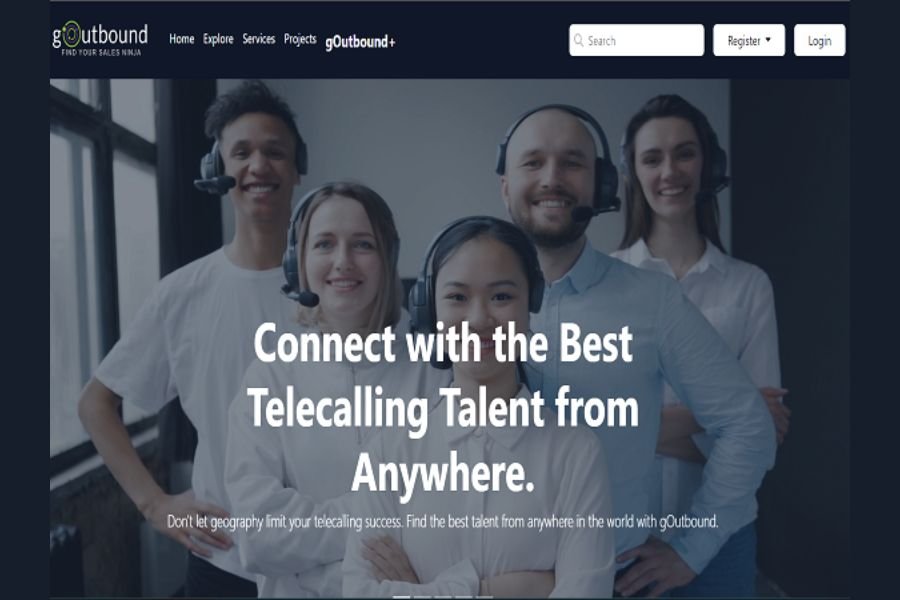 Connecting Telecallers and Businesses: gOutbound's Vision
New Delhi (India), August 24: In a strategic move gOutbound aligns perfectly with the changing dynamics of the modern workforce and the rise of small and medium-sized businesses. Its expansion into the freelance Tele-calling and SMB market is unbelievable.
As the world of work continues to evolve towards remote setups and the gig economy gains momentum, gOutbound is at the forefront of this transformation.
Mr. Azhar Hussain, Managing Director (CEO) at gOutbound, shared his perspective on this significant shift, stating, "Today's workforce is different, and we recognize that. Our decision to extend our services to freelance tele-callers and SMBs reflects our commitment to empowering a broader range of professionals. This expansion aligns with the changing dynamics of work and creates exciting opportunities for telecalling freelancers and SMBs to grow in a competitive business landscape."
At its core, gOutbound is a dynamic and innovative platform that connects tele-callers with businesses that require telecalling services. It streamlines the process of finding the right talent for Tele-calling projects, making it an ideal choice for businesses of all sizes.
gOutbound's decision to expand its services to include freelance telecallers and SMBs is a strategic response to the changing nature of work. The rise of freelancers and small businesses has reshaped the business landscape, with a growing number of professionals seeking more flexible work arrangements.
By offering a platform for freelance telecallers to showcase their skills and connect with businesses looking for telecalling services, gOutbound is building a dynamic professional community.
Small businesses, in particular, benefit from this expansion as they can now access a pool of domain-verified telecallers to enhance their sales and customer outreach efforts.
Ms. Nitisha Kumari, Operations Manager at gOutbound, expressed her excitement about this strategic move. "I'm excited to announce our expanded focus on freelance telecallers and small businesses. Our goal is to empower telecallers with the flexibility to choose when and where they work while connecting them with businesses that need their services. We're dedicated to providing a platform that promotes growth and success for all our users."
The decision to incorporate freelance telecallers into the gOutbound ecosystem comes at a time when the freelance industry is witnessing remarkable growth. Freelancers now constitute a significant segment of the global workforce, and their influence continues to grow.
gOutbound's move to welcome freelance telecallers is in line with the changing nature of work. Traditional office-based roles are giving way to more flexible arrangements, and freelancers are at the forefront of this shift. The ability to work remotely, set their own schedules, and choose projects that align with their skills and interests has made freelancing an attractive career choice.
SMBs play a vital role in the economy, and gOutbound recognizes their unique needs. Unlike large corporations, SMBs often operate with limited resources and manpower. This is where gOutbound steps in.
With the inclusion of SMBs in its portfolio, gOutbound aims to provide these businesses with an accessible and efficient solution to their Tele-calling needs. By connecting SMBs with domain-verified talented telecallers, gOutbound empowers them to boost their sales and customer engagement efforts without the burden of maintaining a full-time in-house Tele-calling team.
gOutbound is a leading Tele-calling freelancers marketplace that empowers telecallers and businesses to connect seamlessly. With a commitment to delivering exceptional Tele-calling services, gOutbound is reshaping the way businesses and professionals collaborate.
For more information, please visit gOutbound.com.
If you're a freelance telecaller looking for exciting opportunities, sign up here
Any queries or need more information?
Email us at: support@goutbound.com
If you have any objection to this press release content, kindly contact pr.error.rectification[at]gmail.com to notify us. We will respond and rectify the situation in the next 24 hours.