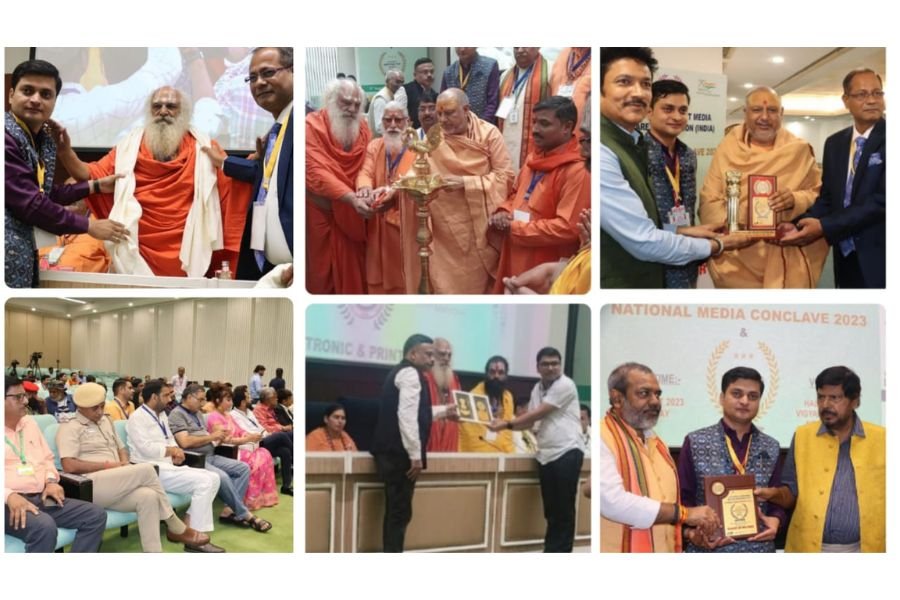 New Delhi (India), August 17: A spectacular gathering of media luminaries and trailblazers marked the Electronic and Print Media Welfare Association's distinguished event – the National Media Conclave and the esteemed Rashtriya Navratna Awards 2023, held at the resplendent Vigyan Bhawan in New Delhi. Sushil Pandit, the distinguished National President of the Electronic and Print Media Association, excitedly announced that this exceptional event saw the participation of influential political leaders, eminent journalists, distinguished media houses, digital news platforms, prolific writers, enterprising freelancers, revered dharmgurus, spiritual luminaries, insightful astrologers, accomplished doctors, dedicated social activists, visionary educators, astute legal associates, seasoned bureaucrats, celebrated celebrities, vigilant police officials, and even the shining stars of social media.
From every corner of India, nominations for these illustrious awards flooded the Committee. The pinnacle of this grand event was the significant felicitation of the chosen awardees across various categories with the prestigious Rashtriya Navratna Award 2023.
Sushil Pandit from Noida, the torchbearer of journalism, stood as the driving force behind the visionary endeavor of organizing the National Media Conclave 2023. Guiding this monumental undertaking was an Organizing Committee adorned with sagacious journalists and seasoned editors. Esteemed individuals such as Pramod Mishra, Rahul Mittal, Jeetendra Chaudhary, Raman Thakur, Muninder Yadav, Manoj Vats, Pramod Yadav, Sughar Singh, Ankit Srivastava, Gaurav Gaur, Abhishek Kumar, Chandan Upadhyay, Punit Goswami, Prakar Varshney, Pawan Chaudhary, Sushil Tyagi, Deepu Pandit, Viswas Bansal, and Sundeep Sharma, alongside numerous other distinguished journalists and revered figures from the media fraternity, guided the Conclave towards resounding success.
Steering the symphony of efforts behind the scenes are the Patrons – Ch. Sher Singh, Atul Aggrawal, Omkareshwar Pandey, Ashok Srivastava, Anshuman Tripathi, Alok Diwedi, R. B. Upadhyay, Poonam Mehta, Ajay Jha, Nandgopal Verma, Sunil Chaudhary, O. N. Mishra, and Dr. Rajesh Pathak. These luminaries form the foundation of the Organizing Committee, orchestrating the multifaceted symphony of the Media Conclave.
Enthusiastic partnerships were formed with prominent TV channels, distinguished newspapers, dynamic digital platforms, captivating YouTube channels, and other iconic media houses, all poised as fervent collaborators in this remarkable conclave.
The centerpiece of the National Media Conclave, an intellectually stimulating panel discussion, will delve into topics that shape the trajectory of our nation. Themes including India's burgeoning growth, fortifying our societal fabric across diverse domains, the pivotal role of media in shaping collective consciousness, cybercrime vigilance, nurturing child education, promoting a healthier India, the dynamic 'Make in India' initiative, India's position on the global stage (G20), the spirit of 'Swachh Bharat', the celebratory resonance of 'Azadi ka Amrit Mahotsav', exploring spirituality, delving into vastu and astrology, assessing medical well-being, empowering women, fostering smart villages, reimagining education, pursuing gainful employment, and uplifting society as a whole, will be eloquently examined.
Dignitaries such as Shri Ramdas Athawale, Senior Minister in the Government of India, senior BJP leader Shri Shyam Jaju, Sadhu from Hanuman Gadhi and National President of Nirvani Akhara – Mahant Dharmadas Ji, Chaudhary Sher Singh, Director of GAIL under the Petroleum Ministry, Justice Narendra Kumar Jain, Chairperson of the Minorities Education Commission in the Government of India, senior BJP leader Sunil Bharala ji , Raghawesh Asthana Ji of Mitwa TV, Ruchika Agrawal Ji, Dr. Vandana Vadera Ji, advocate Richa Pandey Ji from the Supreme Court, Swami Yatinand Ji, Goswami Sushil ji Maharaj ,Mahamandaleshwar Radha Didi, Mahant from Delhi's Kalika Mandir, Mahant from Ghaziabad's Dudheshwar Mahadev, National Poet Amit Sharma and Kushal Ji, Anil Guru Ji, Manoj Shastri Ji, along with many other eminent personalities and a large number of senior journalists and officials from all over the country graced the occasion.
"National Media Conclave 2023" Celebrates India's Gems with "Rashtriya Navratna Awards 2023"
The Rashtriya Navratna Award 2023 was bestowed upon the following individuals: Gagan Singh from Samurai Pavitra, Dr. Prateek, Satish Sharma Adv, Deodutt Sharma retd. IAS, Aviral Choubey, Dr. Mahaveer Prasad Gupta, Dr. Riyazul, Dr. Vanda Vadhera, Dr. Anshu Gupta, Amit Gupta, Kanta Prasad Agarwal, Ajay Mukhiya, Arun Mukhiya, Ashok Aggrawal, Gagandeep Singh Adhi, Neeraj Agarwal, Ruchi Mishra, Rochika Agarwal, Amit Pandit, Kashi Pandit, Sanchit Singga Pandit, Vikas Pradhan, Richa Pandey Adv, Manoj Kumar Shastri, H.K. Sharma of Rashtriya Parshuram Parishad, Amit Sharma, Kushal, Prakhar Varshney, Puneet Goswami, Pramod Mishra, Atul Chaturvedi, Ganesh Gyanarthi, Babu Gappi, Shivoy Musician, Ashvi Yadav, Heena Bharti, Shugar Singh, Sukhpal Singh, Rashmi Pandey, Rakhi, Abhishek Singh Chaudhary, Yogita Awasthi, Shivam, and Nitin.
In this symphony of brilliance, the leadership roles are adeptly taken up by Senior Vice Presidents of the association – Pramod Mishra and Rahul Mittal; the illustrious National Vice President Jeetendra Chaudhary; the esteemed National General Secretary Raman Thakur; the diligent Secretary Chandan Upadhyay; the indomitable Uttar Pradesh President Sughar Singh; the sagacious National Secretary Prakhar Varshney; the dynamic Gaurav Gaur; the sagely Deepu Pandit; the enterprising Secretary for Delhi, Sundeep Sharma; the visionary Manoj Vats; the stalwart Pramod Yadav; the zealous Abhishek Chandan Upadhyay; the unwavering Suner Singh; the insightful Virendra Sharma, along with an array of other eminent personalities, all of whom play pivotal roles in the orchestration of this monumental National Media Conclave.
If you have any objection to this press release content, kindly contact pr.error.rectification@gmail.com to notify us. We will respond and rectify the situation in the next 24 hours.